The 6 core competencies of our BIO FRIENDLY IT services
Professional IT Consulting for BIO FRIENDLY IT
We offer our customers individual solutions within the framework of the 6 principles of our BIO FRIENDLY IT:
Healthy workplaces without electrosmog, cables instead of wireless, minimization of electromagnetic fields.
Individually customizable open-source solutions and UNIX-based operating systems instead of inflexible and expensive software licenses.
Minimizing IT footprint, durable hardware, efficient software and virtualization, using sustainable energy sources and minimizing power consumption.
Maximum IT security and failover protection through our 4D network protection, software updates, and limitation to required software.
Privacy without third-party provider restrictions, use of our own cloud in Germany, and sophisticated back-up and data access strategy to protect your data - 100% DSGVO compliant!
We are independent of other companies and investors; We make our decisions ourselves - solely in the interest of our customers. For this reason, we also rely on full English Documentation.
Thus, we create the conditions for the successful development of your IT in the future.
Do you want a BIO FRIENDLY IT, which optimally supports you in achieving your business goals?
We design and develop your IT environment, which you can build and rely upon.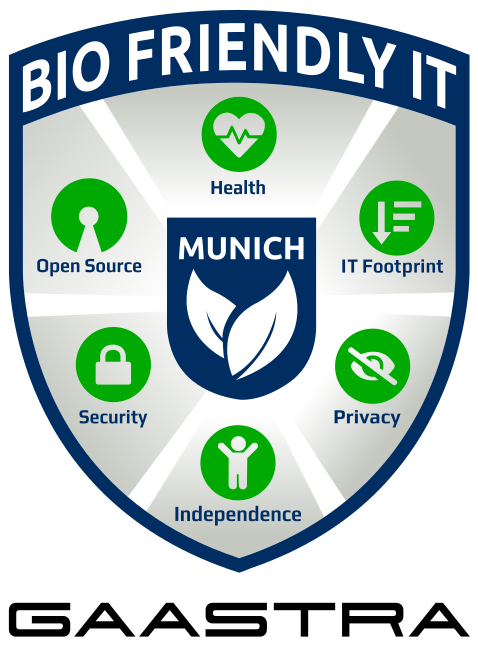 IT for the future of sustainable medium-sized companies
BIO FRIENDLY IT - Certificate
We can certify your IT based on our 6 principles of BIO FRIENDLY IT. Our seal stands for sustainable and energy-saving application of IT technology, based on the principles of health, open source, independence, privacy, data sovereignty and data security, and reduction of IT footprint. We would first analyze your current status quo and in the further process evaluate how your metrics are evolving. Based on this, you can implement the principles of BIO FRIENDLY IT into your own customized IT infrastructure. Our customers are always closely involved in this process.